* Remember every Friday & Saturday are tastings at Country Club Liquors. Come in and try some of our favorites wines or beers. Recieve special pricing on those items. You recieve this only the day of the tastings.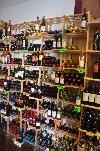 We taste many wines. This wall is our favorites for under 10 dollars. Come to this wall and select a wine for under $10 that you can be proud to drink.


Many of the beers we taste come from this door. Seasonals are a big part of Country Club Liquors selection.