Always remember you recieve 10% off regular price on all wines. You can mix and match to get 10% off. So stock up today the Holiday rush is coming so beat the rush.


We carry many of the great wines of California. Just to name a few Silver Oak, Caymus, Beringer and many more high quality wines.


Do you want a great bordeaux? Country Club Liquors carries one of the greatest years 2005. With many choices. Priced from the $20 range to the $350 range. These wines only keep going up in price. Choose a couple and keep them for many years to come.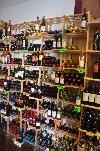 Country Club Liquors also prides ourselves on bringing in one of the best selsctions of wine for under $10. Country Club Liquors wants you to be able to come to this wall and be confident in the wine for under $10.


Country Club Liquors brings you the best of Australia. This is our number one seller from Austrlia. Come in and get great prices on the 1.50 liter at a great low sale price!!

Remember we do daily bulk discounts on wine.

As always we want to hear from you. We want to be your favorite wine store. To do this we need your voice. Tell us about the products you want in our store & our pricing. Good or bad.